Why Can't I Get These Bed Bugs Out Of My Katy Home?
February 15, 2021
There was a time when bed bugs were most often associated with motels and unhygienic conditions. Today, bed bugs can be picked up from anywhere, by anyone, at any time. Bed bugs have had a recent resurgence over the years, and your Katy, Texas residence is no exception.
These blood-sucking pests are a tremendous burden for homes and businesses alike. They may not be detrimentally hazardous to your health, but they will generate stress, physical discomfort, and sleepless nights.
Because DIY methods cannot eliminate an infestation, is in your best interest to skip all of the DIY bed bug control methods and go straight to a professional for assistance with residential bed bug extermination options for your Katy home.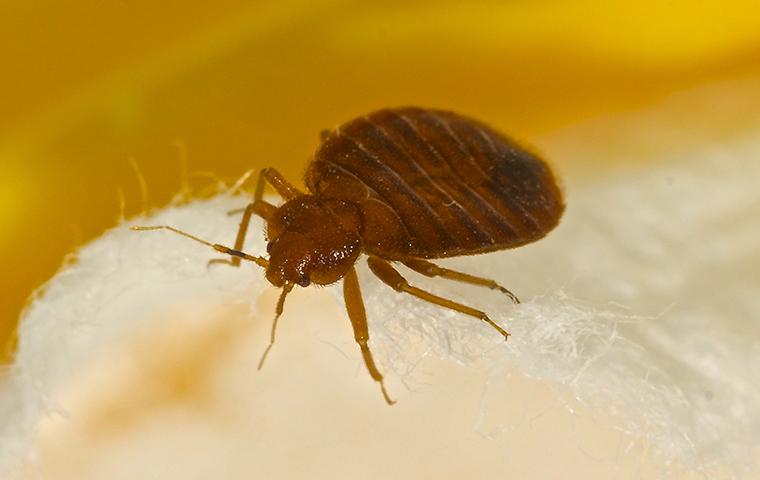 Bed Bug Identification
Bed bug identification isn't always an easy task. They are small, parasitic pests with a thirst for blood. These hardy creatures start off the size of a pen point, and their bodies are transparent until they have become well-fed.
Adult bed bugs resemble the shape, size, and color of an apple seed. Their wingless bodies are flattened and oval-shaped, with six legs and a reddish-brown color. Adults average roughly ¼ inch in length. Once they have fed, their bodies become engorged with blood and form a purplish-red pill shape.
This blood-sucking parasite delivers a collection of aggravating bites that can itch for hours on end. Just one bed bug has the potential to reproduce and become a major infestation. These pests are extremely difficult to control.
Surprisingly, many people will turn to DIY home remedies for bed bug control before they seek professional treatments. If you suspect a growing bed bug infestation, you'll sleep better with immediate assistance from a bed bug extermination service.
Comparing Costs And Effectiveness of DIY Bed Bug Control
While there are some helpful DIY bed bug control methods for property owners, not a single one of them can effectively eliminate an infestation.
Household remedies often include applications of baking soda, mothballs, dryer sheets, rubbing alcohol, or tea tree oil. Bulk purchases range from $10-$20 per item. Some of these treatments will stunt a bed bug population, but they cannot effectively eliminate an infestation.
Ultrasonic devices average around $25-$35. The high-frequency sound waves they emit do not chase off bed bugs as the product advertises.
Disposable bed bug traps average around $10-$20. While they do capture bed bugs, the eggs will continue to hatch and the population will continue to reproduce. Bed bug traps can be a sticky mess, and they will not eliminate a bed bug infestation on their own.
Insecticide sprays average $20-$70, depending on the size and amount needed. While they can be somewhat effective, they often contain harmful levels of toxic chemicals that should only be handled by a professional.
Diatomaceous earth ranges from $10-$20 a bag. This can be an effective method for reducing a population, but it is not a bed bug control solution. There is a fine line between too much and too little of an application, and diatomaceous earth can be harmful to your health if inhaled.
Heat treatments range from $70 portable fans to $1800 stationary fans. While heat does kill bed bugs, it is next to impossible to target and penetrate all of the infested areas without professional equipment or experience.
Time is money. Working to spend less money in hopes of saving money will only cost you time, energy, stress, aggravation, and more money. When you add it all up, it is worth the decision to hire an experienced bed bug control service for your Katy home.
Pro Pest's Bed Bug Control Program
Pro Pest's bed bug control program guarantees a complete extermination of your bed bug infestation. We'll start with an initial service inspection and schedule you for your first service visit. Once that has been completed, we will return for a follow-up treatment.
1. The service inspection includes the identification of bed bugs and the areas of your home that are infested. We will provide you with a treatment quote and a list of things you will need to do to prepare your home for an initial service visit.
2. During your initial service visit, we will check to make sure you have completed the tasks on the checklist we supplied after our inspection. Afterward, your pest control technician may take your beds apart, remove mattresses, and remove furniture drawers to apply our liquid product.
3. We will schedule a follow-up visit 14-28 days after your initial service visit. Your pest control technician will reapply product treatments to your home's cracks and crevices as a preventive measure.
Pro Pest bed bug services come with a 30-day guarantee from the date of your initial service visit. Our bed bug control methods will have you sleeping sound again in no time.
Get A Better Nights Rest With Pro Pest
As a family-owned and -operated pest control company, we treat all of our customers like family. Pro Pest values the satisfaction of our customers first and foremost. We listen to the problems you are experiencing so that we can better evaluate and execute your home's needs.
Pro Pest provides a wide range of effective pest control services for your home. Our competitive pricing ensures an affordable solution for every pest problem you may encounter. We strive to deliver the personalized service that we would want to experience in our own homes. As a customer, you are our top priority.
Contact us today to receive a free estimate for your Katy home!